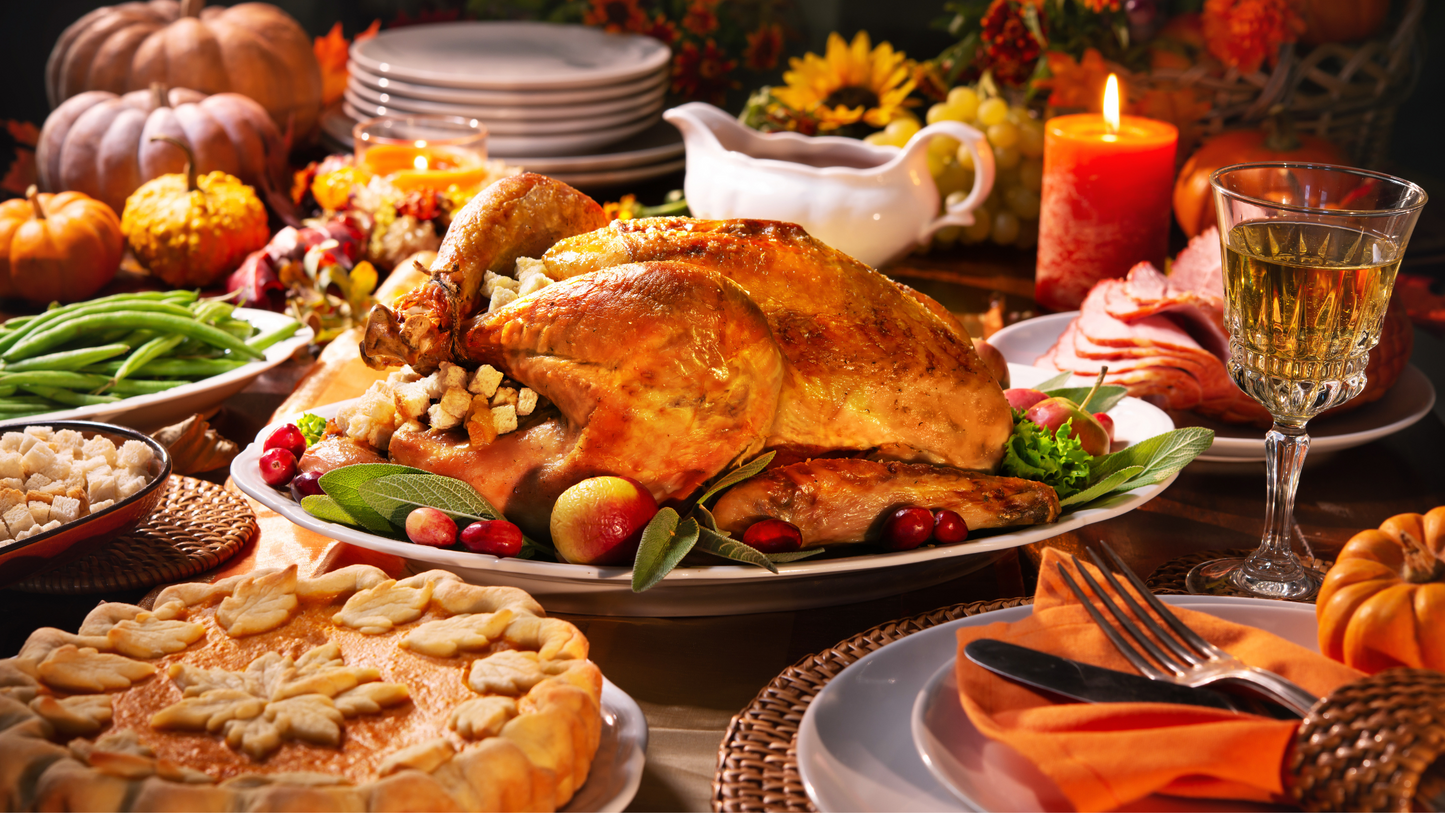 How I Use Honey in My Thanksgiving Dinner
It's no secret that putting together a Thanksgiving dinner is a lot of work. It sort of becomes a puzzle trying to fit everything in the oven or figuring out what can be cooked ahead of time. However, instead of focusing on the stress of pulling off a picture-perfect Thanksgiving dinner, I'd rather focus on the touch of sweetness I add to mine. As a beekeeper, I am always looking for ways to add honey to my cooking and Thanksgiving is my favourite time of year to experiment. Let me share with you how I use honey in my Thanksgiving dinner.
Turkey
Our Headwaters Summer Blossom Honey is made right in my backyard and funny enough so is my turkey, so it just makes sense that they would go together. I mix together equal parts honey and dijon mustard (about ½ cup each) as the base of my glaze, then I season with salt, pepper, garlic, onion, and rosemary to create a sweet and savory honey-glazed turkey. Remember to baste the turkey as you cook to keep the meat moist. 
Sides
Honey Roasted Carrots are a classic Thanksgiving side, but I add an extra kick to mine with Hot Honey. I begin by melting ⅓ cup of butter in a pan then add 2 tablespoons of Headwaters Fall Blossom Honey and 1 tablespoon of Hot Honey, throw in about 4 cloves of minced garlic plus some salt and pepper, and just like that you have a sweet and spicy glaze ready to pour over carrots and stick in the oven for roasting. 
While on the topic of Hot Honey, my Spicy Smashed Potatoes are a hit whether it is a regular Wednesday night or a large Thanksgiving Dinner. I mix 2-3 tablespoons of Hot Honey with about ¼ cup of melted butter and some garlic powder. Toss your cooked baby Yukon gold potatoes in the sauce then smash the potatoes with the bottom of a glass. Roast on a baking sheet until the potatoes are golden brown then cover in mozzarella cheese. 
If you're anything like me, you tried your hand at making bread during quarantine. My go-to recipe swaps out the white sugar for honey, resulting in a moist and rich dinner roll. To top it off, I mix 6 tablespoons of softened butter with 1 tablespoon of honey and brush on top of the buns after they come out of the oven. You may want to double this recipe as these buns will go quickly. 
Dessert 
If you haven't had enough honey yet, don't worry. The secret ingredient in my apple pie is an entire 110g jar of our Cinnamon Creamed Honey. In a large pot, I cook down my sliced apples, Cinnamon Creamed Honey, brown sugar, nutmeg, and cinnamon to create a sweet and warm pie filling. For something more festive, try our Pumpkin Spice Creamed Honey.