This store requires javascript to be enabled for some features to work correctly.
About Ontario Honey Creations
Ontario Honey Creations is a family owned and operated beekeeping business, specializing in seasonal terroir honey, artisanal honey vinegars, and Meads. Peter and I are dedicated to providing you with 100% raw and unpasteurized honey from our own bee yards located throughout the GTA. Current bee yard locations can be found throughout Toronto, Headwaters and Rouge Valley region.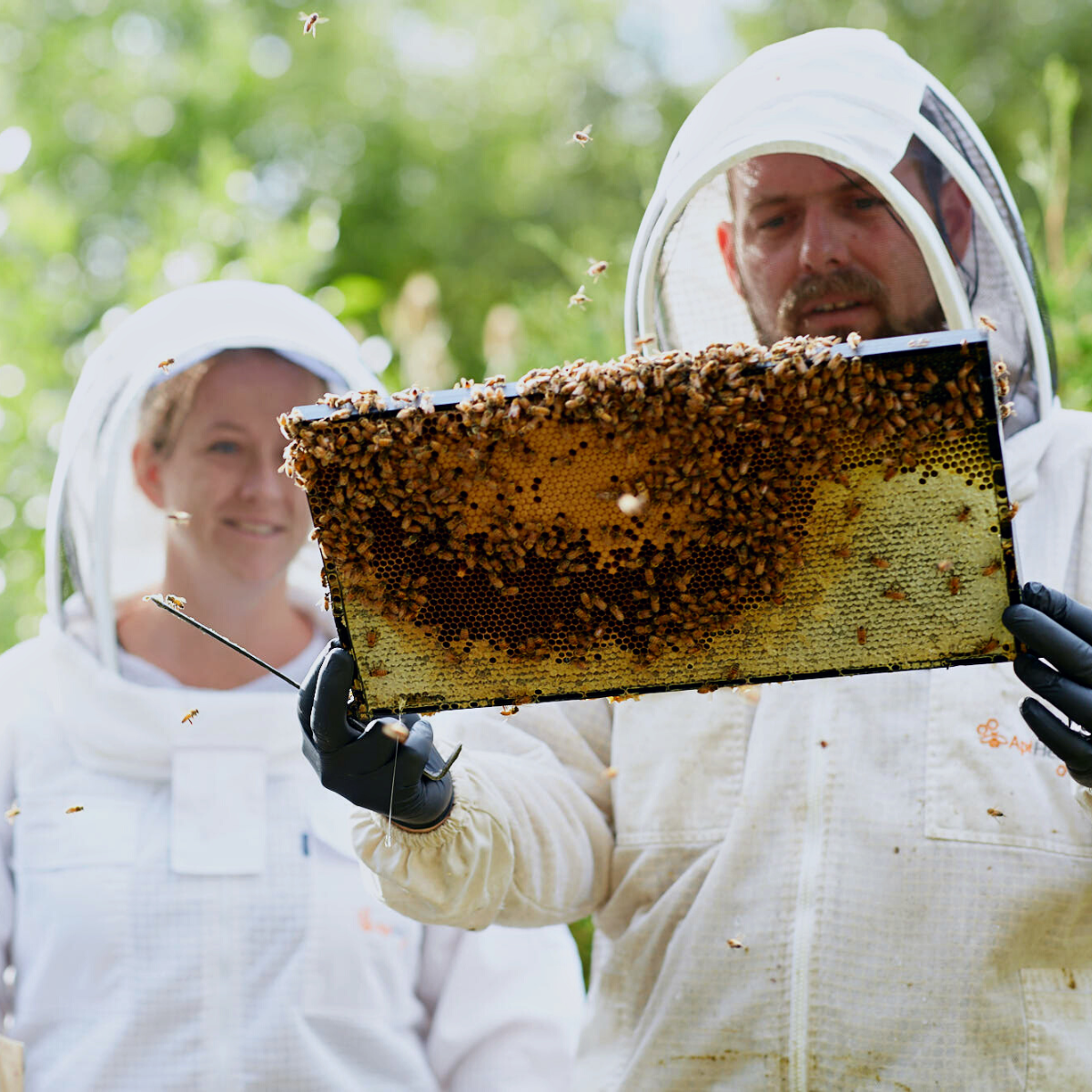 Sarah & Peter
Our beekeeping experience began in 2012 when Peter decided to follow in the footsteps of three generations of beekeepers before him. We started with two hives and had the desire to expand our apiary. We began posting ads on a classified site for free honeybee swarm removal services. We were quickly amazed by the demand. As an alternative to calling an exterminator, we founded our sister company Toronto Bee Rescue, which focuses on humane honeybee removals.
Our beekeeping hobby grew quickly, and by 2015 we had 120 hives. At this point, I decided to leave corporate life behind and focus on building Ontario Honey Creations to share our delicious honey with all of you. By 2018, with over 400 hives, Peter left corporate life as well to transition to a full-time beekeeper. Since then, we have been dedicated to growing our apiaries and sharing our honey products with all of you! 
Our Vision 
Here at Ontario Honey Creations, our vision is to create the finest honey products working in partnership with our honeybees and nature. 
Our Mission
At Ontario Honey Creations, Peter and I aim to be conscientious, knowledgeable, and responsible beekeepers, while producing innovative honey products using our own honey. 
Our honey is 100% raw and unpasteurized, meaning that all of the natural enzymes and local pollen are still present.
We pride ourselves on offering seasonal terroir honey, where you can taste the uniqueness of the flowers in bloom.
Terroir is a term often used to describe the taste of food based on various factors like weather conditions, soil, and relating to honey, the various flowers in bloom. You will find that all of our honey is labeled with both region and season. We do not mix our honey harvests together. Each harvest is kept separate to savour the uniqueness between the various bee yards.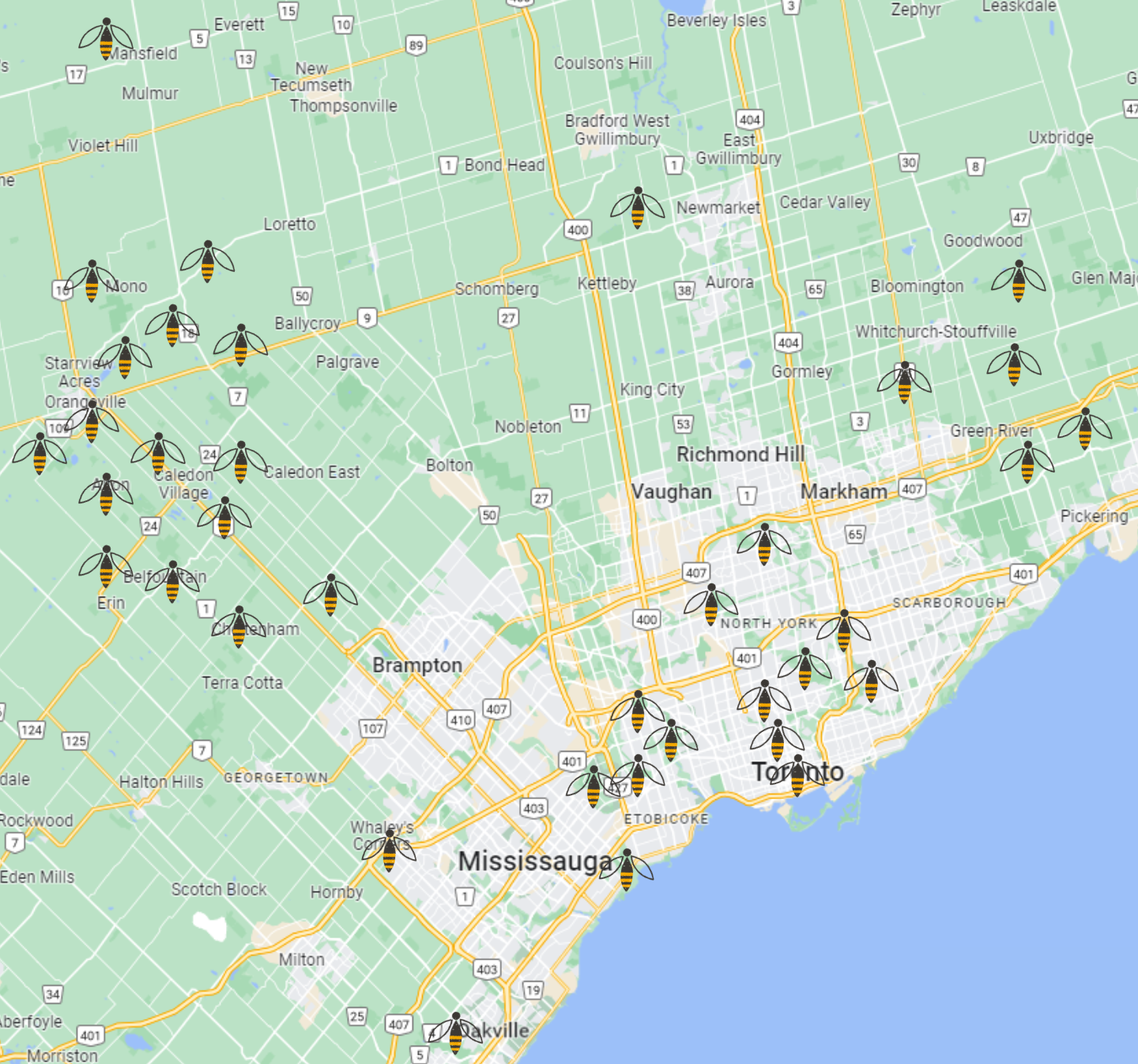 Our Apiaries
We pride ourselves on being as transparent as possible about where our honey comes from. Our 50+ apiaries host 600+ hives that over 30 million honeybees call home. From towering rooftops in the heart of downtown Toronto to lush meadows and forests in the Headwaters region, our bees can be found pollinating everything from vast naturalized land to the flowers in your garden. Honeybees hold a special place in our ecosystem, spreading pollen from flower to flower, ensuring that our future is as colourful as our present. Although not always seen, their presence is essential. 
HiveMinders is our own brand of Mead here at Ontario Honey Creations, made using our own raw and unpasteurized local honey produced by re-homed honeybees from Toronto Bee Rescue. Proceeds from each sale go back towards supporting the great work that Toronto Bee Rescue does. Along with our own local honey, we source our fruits from local farms in the area.
We use a traditional Polish recipe passed down from generations to craft deliciously smooth Mead. All of our Mead is crafted in small batches and individually bottled and corked, this ensures that each bottle of Mead we sell is of the highest quality. 
In addition to our traditional Mead offerings, we also offer Hard Honey Seltzers. Light and refreshing with a mild carbonation, perfect for sipping on a hot summer's day.

Join us at our farm for a Mead tasting experience under the maple trees. Sample our Mead, meet our pigs, and tour the farm.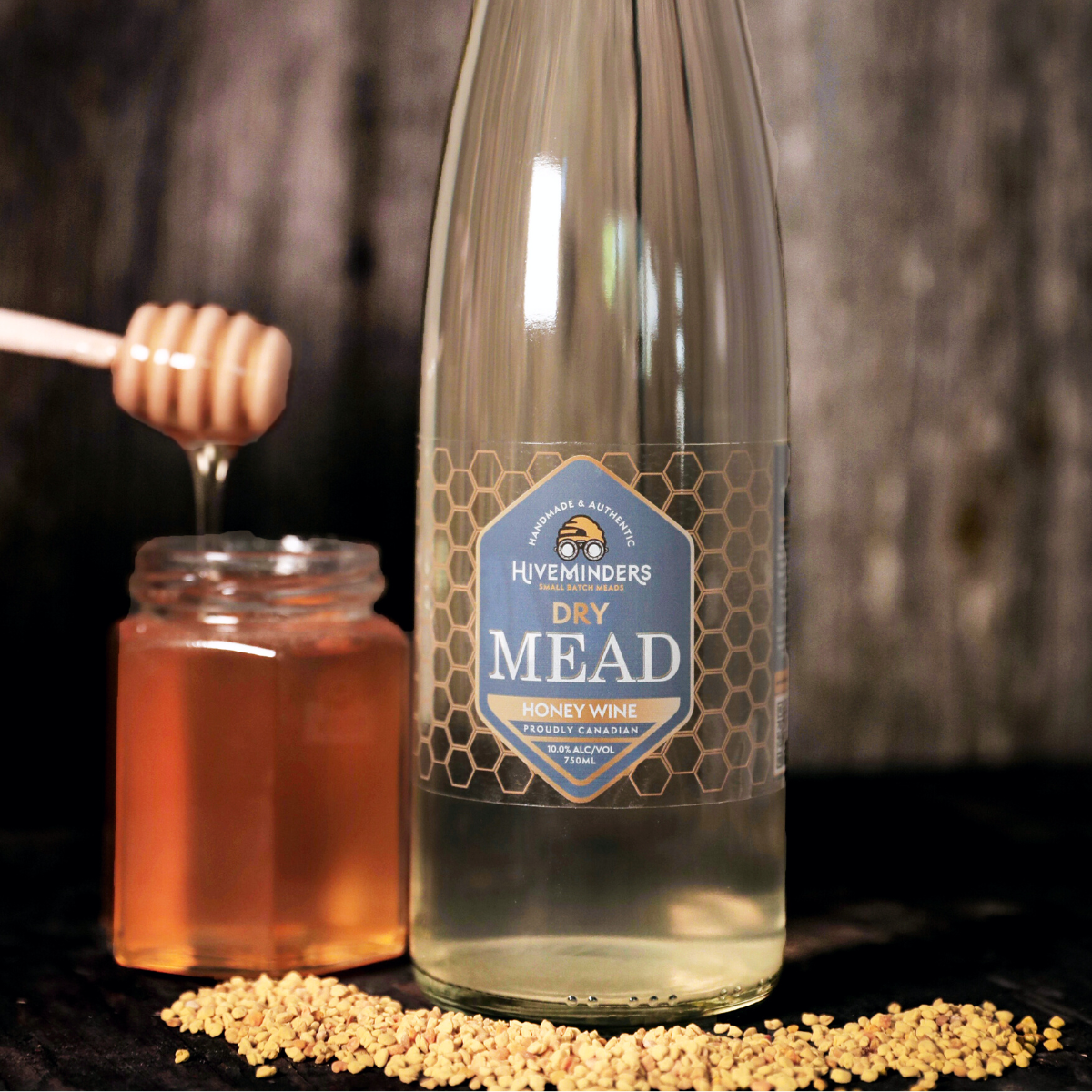 What is Mead?
Mead, also known as Honey Wine, is honey and water fermented with yeast to create an alcoholic beverage. Mead is an ancient drink, often with a medieval reputation thanks to pop culture. However, Mead dates back even further than that and is often cited as the first alcoholic beverage. Making a comeback in recent years, Mead is often flavoured with a variety of spices, fruits, vegetables, and grains.
Shop Mead
Toronto Bee Rescue has been providing humane honeybees swarm removal services in the GTA for over 10 years. Beginning in 2012 as a passion project, we posted an advertisement on a classified site for free honeybee swarm removals and the responses began pouring in. That's when we realized that there was a gap in the market - that people needed humane honeybee removal and relocation options for honeybees.   
Swarm Collection: Swarming is when a colony essentially splits in half in search of a new home. The swarm is a large ball of bees temporarily resting on various structures until they move into their new permanent home. Toronto Bee Rescue removes honeybee swarms in the GTA, Dufferin County, and Peel Region.  
Hive Removals: If honeybees have made their way into your home or business, Toronto Bee Rescue can help. We specialize in humane hive removals in the GTA and South Central Ontario.
Hive Hosting: Toronto Bee Rescue works with local companies and individuals to find homes for honeybee colonies.
Hive Sharing: Similar to a Community Supported Agriculture (CSA) program, a hive share client supports a beekeeper by purchasing a beehive's honey yield at the beginning of the season. Each hive share purchase includes a visit to one of our bee yards.
Visit Toronto Bee Rescue