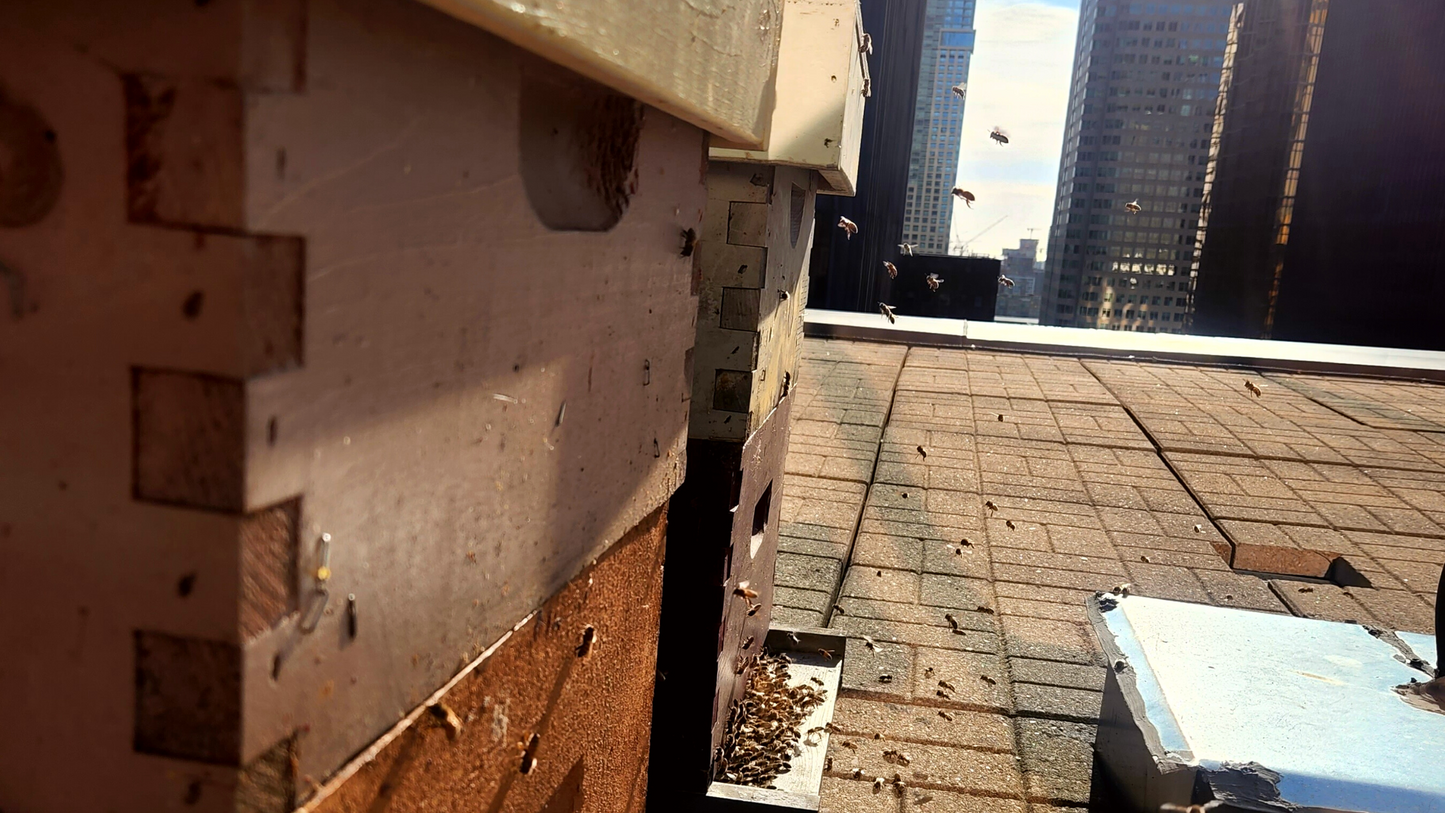 The New Buzz In Town: Urban Beekeeping Is Blooming!
Living in the city has so many perks, but encountering "nature bandaids" on the street can make us yearn for more! Small sections of neatly-trimmed bushes, scarcely-placed flower pots and council-approved tree planters are not near lush enough to soothe the soul. Even without much of a yard space, you can bring nature to your door by adventuring in urban beekeeping.
Never heard of such a thing? Well, you aren't alone! Many city dwellers aren't aware of the treasure trove that is urban beekeeping. You don't need acres to keep a healthy hive. Urban beekeeping can take place in any town or city without access to a large yard or countryside. You may have to get creative, but the rewards are so very sweet! 
If you're looking around your own space and wondering if urban beekeeping is possible - look no further than up. If you lack backyard space but can access a rooftop, your apiary is ready! More urban environments are looking upwards for sustainable options of resource management. Fairmont Hotels & Resorts in Toronto is one example, farming honeybee hives on the roof of their establishment and using their product in-house - over 100lbs per year of it! 
If yard space is accessible, make sure to plant pollinator-friendly flowers around the intended hive spot. Bees are resourceful creatures and may travel over 5 kilometres to find local pollens. Keeping lush plants and flowers around your hive spot creates a healthy, nurturing environment for the bees. Strategically choosing flowers that bloom every year can be an easy way to keep your garden self-sustaining. 
Being an urban beekeeper is not a solitary endeavor. There are more community networks out there than ever before to connect urban beekeepers, farmers, activists and volunteers together. Toronto Bee Rescue is our sister organization, keen on sharing knowledge and information about urban beekeeping practices. They offer hive sharing programs where folks can buy into a beekeeper's harvest for a particular year, or season. TBR also sells nucs (or nucleus colonies) for up-and-coming beekeepers to get started! It's never been easier to dip your wings into urban beekeeping. 
On top of reaching out and looking online, urban beekeepers can connect with their neighbours and fellow community members to make a change in their area. Maybe a seed exchange can occur between neighbours to set up a beautiful flower garden around the hive. Perhaps a community exchange occurs between neighbours, gifting honey treats, home cooked goods, preservatives and more. "Bee" good to your neighbours and the rewards will be sweet!