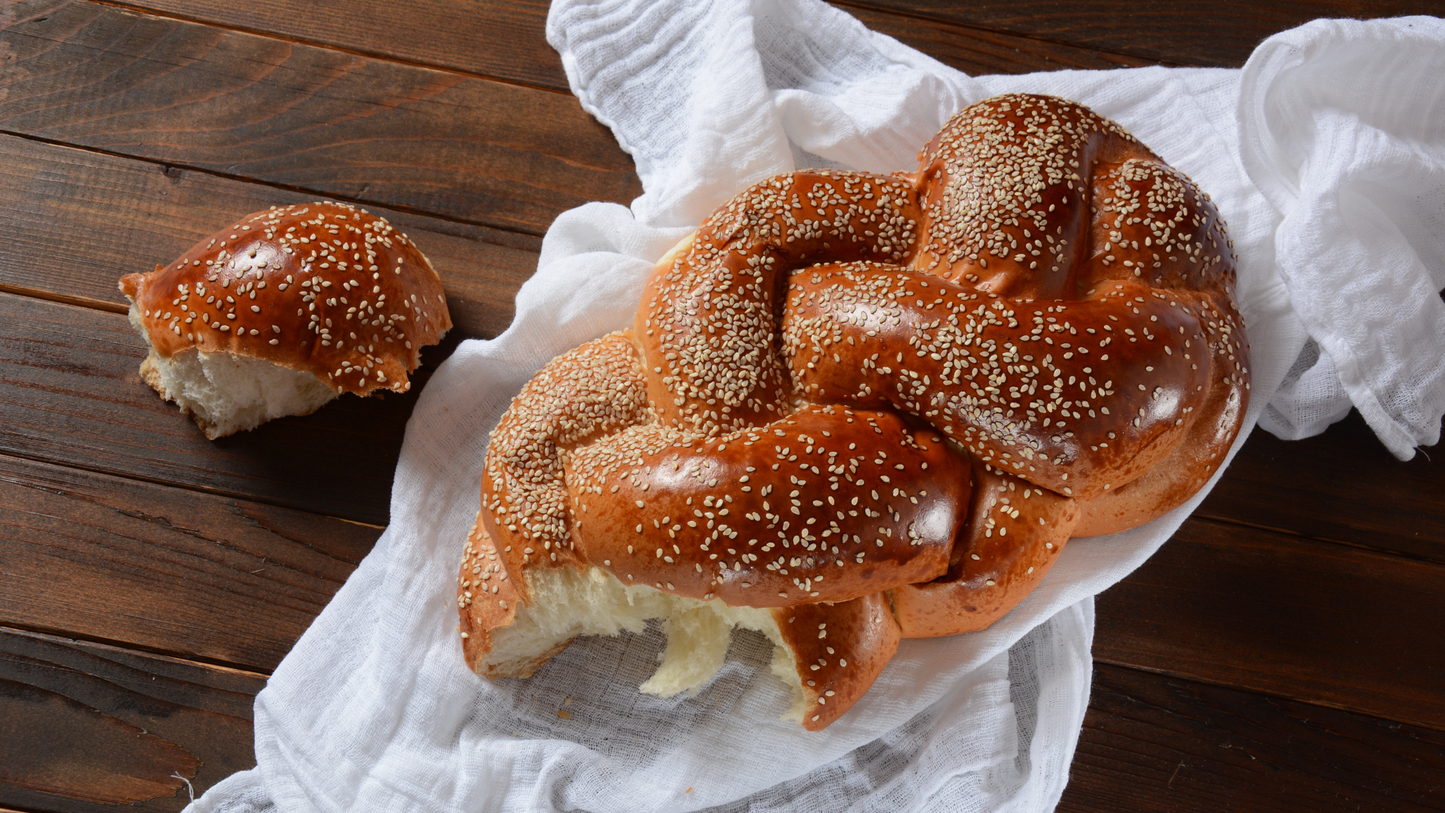 Ingredients
| | | | |
| --- | --- | --- | --- |
| Item | Amount | Item | Amount |
| Dry yeast | ½ ounce | Salt | 2 teaspoons |
| Sugar | ½ teaspoon | Bread flour | 6-7 cups |
| Water | 1 & ½  cup  | Boiling water (for raisins) | 1 cup |
| Large eggs | 5 | Raisins (optional) | 2 cups |
| Honey | 2/3 cup (or more) | Canola oil | ½ cup |
| Sesame seeds | 1 tablespoon |   |   |
In a small bowl dissolve your yeast into the water, mix it around and let it stand for a few minutes. While it is reacting, using another small bowl and a large bowl separate two eggs, putting the egg whites into the empty smaller bowl and the yokes into the large one. Place egg whites in the fridge to be used later.
Into the large bowl mix in the honey, three more eggs, oil, salt, yeast mixture, and 3 cups of flour. If you have a mixer (like a kitchen aid) use with a dough hook, if not mix with a wooden spoon. I personally had a hand mixer with dough hook attachment. Mix for around 3 minutes or until it forms a soft relatively sticky dough.  Than place onto a floured surface and kneed it for 6-8 minutes.
After this you will want to make sure you wash your large bowl, dry it thoroughly and grease the inside before placing your dough inside of it. Cover it with a greased plastic wrap or (what I did) grease the bottom of a pizza pan and place it on top.
Let this rise for at least 2 hours or until it has at least doubled in size. I let mine rise overnight.
Turn the dough out on a floured surface and separate it in half then each half into a third. Roll these thirds into long strands (about 16 inches). Using three strands braid into a single loaf and pinch the edges.
Lay out the three strands size by side, take the far outside right strand and fold it over the middle strand. Then take the outside left strand and fold it over the middle strand. Continue this process by alternating folding the far right and left strand over the middle strand until you have reached the end of the strands. To finish it off, lightly push down on the three strands to combine them at the bottom.
(if you are still having trouble, you can Youtube a braiding tutorial for a visual guide).
Three strands will make a loaf, so you will end up with two loafs of bread. 
Retrieve the egg whites from the fridge and mix with honey approximately ½ - 1/3 cup, stir vigorously and brush the two loafs before garnishing with sesame seeds. Let these loaves sit for at least 30 minutes and pre heat the oven to 350 F. bake for 30-35 minutes.
Enjoy with peanut butter and maybe more honey depending upon your sweet tooth.