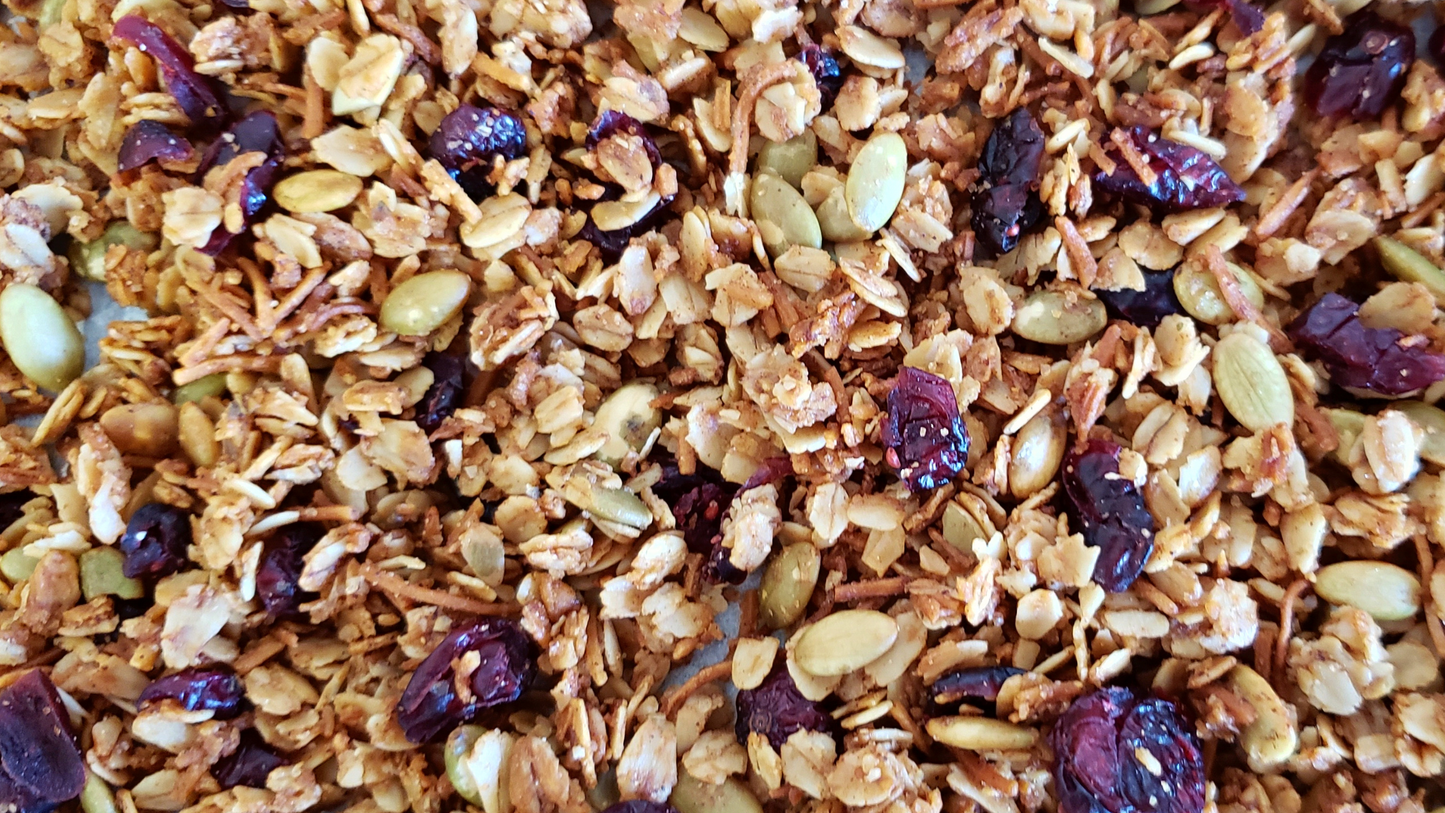 Granola is great on yogurt, smoothie, and fruit bowls, but it can also be used as a delicious ingredient in many dessert recipes. Here are some ways you can use granola in your treats to add some extra flavour and texture.
Banana Granola Muffins
Our granola includes coconut, pumpkin seeds, cranberries, and a sprinkle of cinnamon. The cranberries add a burst of sweet and tart flavour to these muffins while the seeds and cinnamon add warmth and nuttiness.
Ingredients:
2 cups flour

3/4 cup sugar

3/4 teaspoon baking soda

1/2 teaspoon salt

3 very ripe, darkly speckled, large bananas, mashed well (1½ cups)

1/4 cup sour cream

2 large eggs beaten lightly

6 Tablespoons butter, melted and cooled

1 teaspoon vanilla extract

1 3/4 cups Ontario Honey Creations Granola, divided
Instructions:
Preheat oven to 350ºF.

Grease muffin pan with cooking spray and set aside.

In a large bowl, whisk together the flour, sugar, baking soda and salt.

In a separate bowl, combine the mashed bananas, sour cream, eggs, butter and vanilla.

Delicately fold the banana mixture into the dry mixture until the ingredients are just combined. (Do not overmix the batter.)

Fold 1 cup of the granola into the batter.

Pour the batter into the prepared muffin pan. Sprinkle the remaining ¾ cup granola on top of the muffins then spritz the granola lightly with cooking spray to prevent it from browning.

Bake the muffins for 10-15 minutes, until a toothpick inserted into a muffin comes out clean.
You can learn more about the recipe here
Granola Apple Crisp 
A delicious apple crisp with all the added benefits of our granola's healthy fats, fiber, and antioxidants.
Ingredients:
For the filling

4 apples, chopped

2 teaspoons lemon juice

1 teaspoon cinnamon

1/4 teaspoon nutmeg

1/4 teaspoon salt

For the topping

1/4 cup brown sugar

1/4 cup flour

1 teaspoon cinnamon

1/2 teaspoon nutmeg

1/4 cup unsalted butter, melted
Instructions:
Preheat your oven to 350 degrees.

Prepare topping: In a bowl, place our granola, brown sugar, flour, cinnamon, and nutmeg. Stir until well combined. Pour in melted butter and stir again until thoroughly mixed.

Chop apples and cut into quarter inch pieces, or slice thinly, if you prefer. Add apples to a bowl and mix with the lemon juice.

Add the cinnamon, nutmeg, and salt and stir again. Divide apples evenly into six ramekins.

Distribute topping over each apple filled ramekin so topping covers apples in each one. Gently press down on topping.

Place in 350 degree oven and bake for 30 minutes, until softened.

Serve while still warm.
You can learn more about this recipe here
Chocolate Granola Bark
The crunchy texture of granola and chewy cranberries contrast perfectly with smooth and creamy chocolate.
Ingredients:
1 cup semi-sweet chocolate chips

1/2 cup Ontario Honey Creations Granola 

2 tablespoons salted pumpkin seeds or sunflower seeds

2 tablespoons unsweetened coconut flakes

Pinch flaky sea salt
Instructions:
Melt the chocolate chips in a microwave safe bowl by cooking on 50% power, stirring every 30 seconds until smooth.

Spread the melted chocolate chips onto a sheet of wax paper or parchment paper.

Sprinkle the granola evenly across the chocolate.

Top with seeds, coconut flakes, and salt.

Gently press the toppings into the chocolate so they stick, then place it in the fridge for 30 minutes or until set.

Crack into bite size pieces and store in an airtight container in the refrigerator.
You can learn more about this recipe here