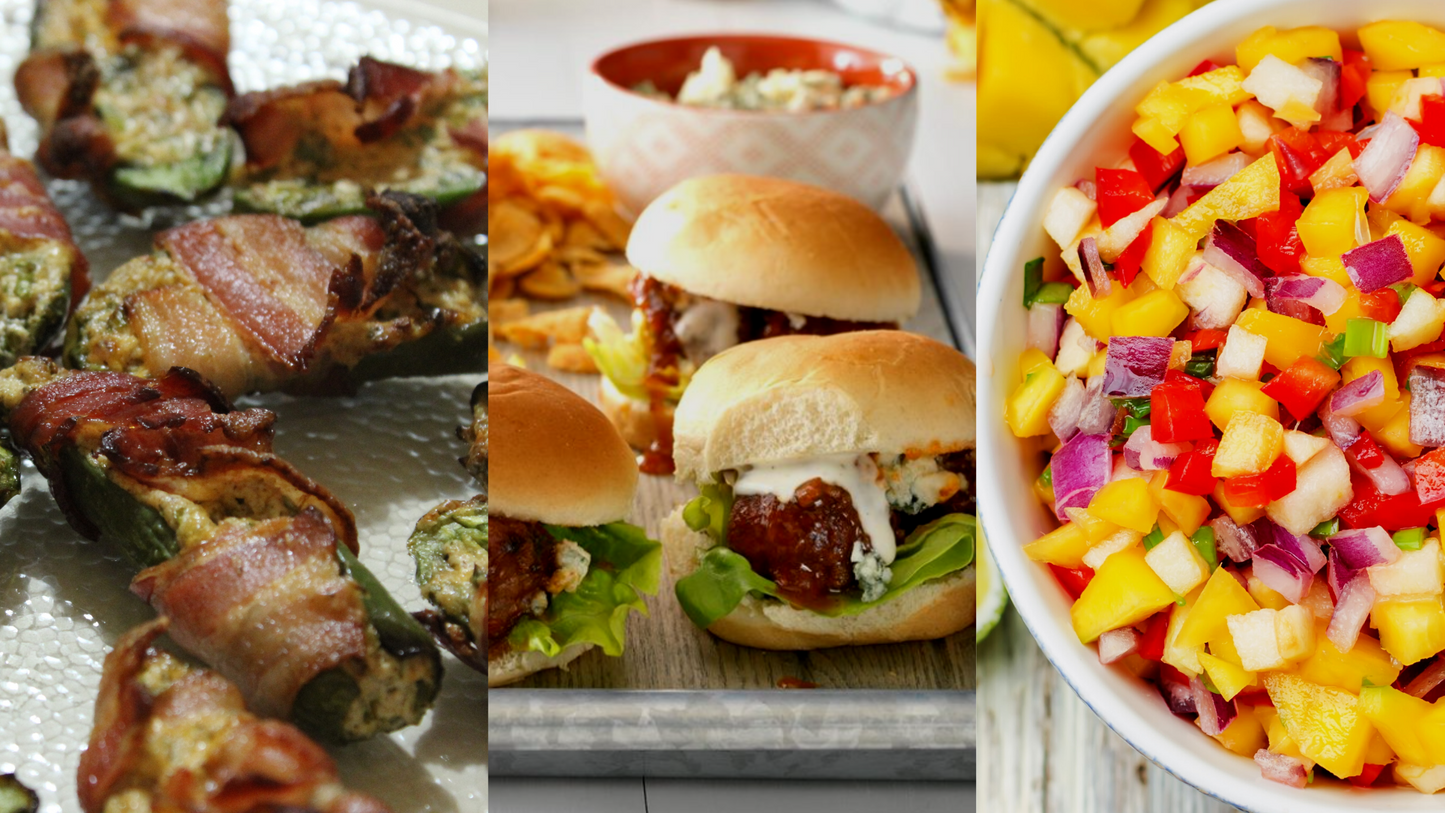 Sweeten Up Your Super Bowl Spread: Delicious Snacks and Appetizers
Super Bowl Sunday is just around the corner and it's time to start planning your snack and appetizer menu. Why not add a touch of sweetness to your spread with some honey-based recipes? These recipes are quick and easy so you can spend less time in the kitchen and more time watching the game and enjoying company. A good game needs good food, and you can have both without sacrificing your time with these recipes!
Honey Jalapeno Poppers
Stuffed with a cream cheese and honey mixture that gives them a nice sweetness and a bit of heat. The honey helps to balance out the heat from the jalapenos, making these poppers irresistible.
Ingredients:
8 jalapeno peppers

8 ounces cream cheese softened

3 tablespoons Ontario Honey Creations Hot Honey

2 garlic cloves minced

Salt and pepper to taste

16 slices bacon

2 tablespoons brown sugar
Instructions:
Preheat oven to 350 degrees F.

Slice the jalapeno peppers in half lengthwise and scoop out the insides with a spoon. Set onto lightly oiled baking dishes.

Add the cream cheese to a bowl and mix in 1 tablespoon Hot Honey, garlic, and salt and pepper. Mix well.

Fill each jalapeno pepper with the cheese mixture. You might have some leftover, depending on the size of your peppers. Just distribute evenly.

Mix the remaining honey with the brown sugar in a small bowl. Rub each slice of bacon with the spicy-sweet mixture. Get both sides nicely coated.

Wrap each stuffed jalapeno boat with a slice of bacon. Pierce with toothpicks to hold the bacon, if desired.

Bake the jalapeno poppers about 20-30 minutes, or until the peppers soften and the bacon is starting to crisp. You can blast them with the broiler a couple of minutes at the end if you need to.

Remove from heat, cool slightly, and serve.
Read more about this recipe here
Honey BBQ Meatball Sliders
These mini sandwiches are topped with creamy blue cheese and smothered in a delicious honey BBQ sauce. Served on soft, fluffy buns, these sliders are easy and delicious.
Ingredients:
1/4 cup packed brown sugar

1/4 cup Louisiana-style hot sauce

1/4 cup Ontario Honey Creations Honey

1/4 cup apricot preserves

2 tablespoons cornstarch

2 tablespoons reduced-sodium soy sauce

1 package (24 ounces) frozen fully cooked Italian turkey meatballs, thawed

Bibb lettuce leaves

12 mini buns

Crumbled blue cheese

Ranch salad dressing, optional
Instructions:
In a 3 or 4-qt. slow cooker, mix the first 6 ingredients until smooth.

Stir in meatballs until coated. Cook, covered, on low 2-3 hours, until meatballs are heated through.

If desired, stir in additional hot sauce.

Serve meatballs on lettuce-lined buns; top with cheese and, if desired, dressing.
Read more about this recipe here
Mango Salsa
Mango salsa is a great contrast to the typical delicious, but greasy food often found at Super Bowl parties. It's a light and refreshing alternative that adds a burst of flavor to your game day spread with its sweet and tangy taste.
Ingredients:
2 cups diced Roma tomatoes

1 ½ cups diced mango

½ cup diced onion

½ cup chopped fresh cilantro

2 tablespoons fresh lime juice

1 tablespoon Ontario Honey Creations Honey Apple Cider Vinegar

½ teaspoon salt

½ teaspoon black pepper

2 cloves garlic, minced
Instructions:
Stir the tomatoes, mango, onion, sugar, cilantro, lime juice, cider vinegar, salt, pepper, and garlic together in a bowl; refrigerate 1 hour before serving.
Read more about this recipe here
You can also consider adding honey and honey products in other recipes as well like dips, desserts, and drinks. If you're looking for some different drink options, try our Hard Honey Seltzers available in Peach, Cherry, and Hopped. Don't be afraid to get creative and try out some new recipes for your Super Bowl party. And most importantly, remember to enjoy the game!