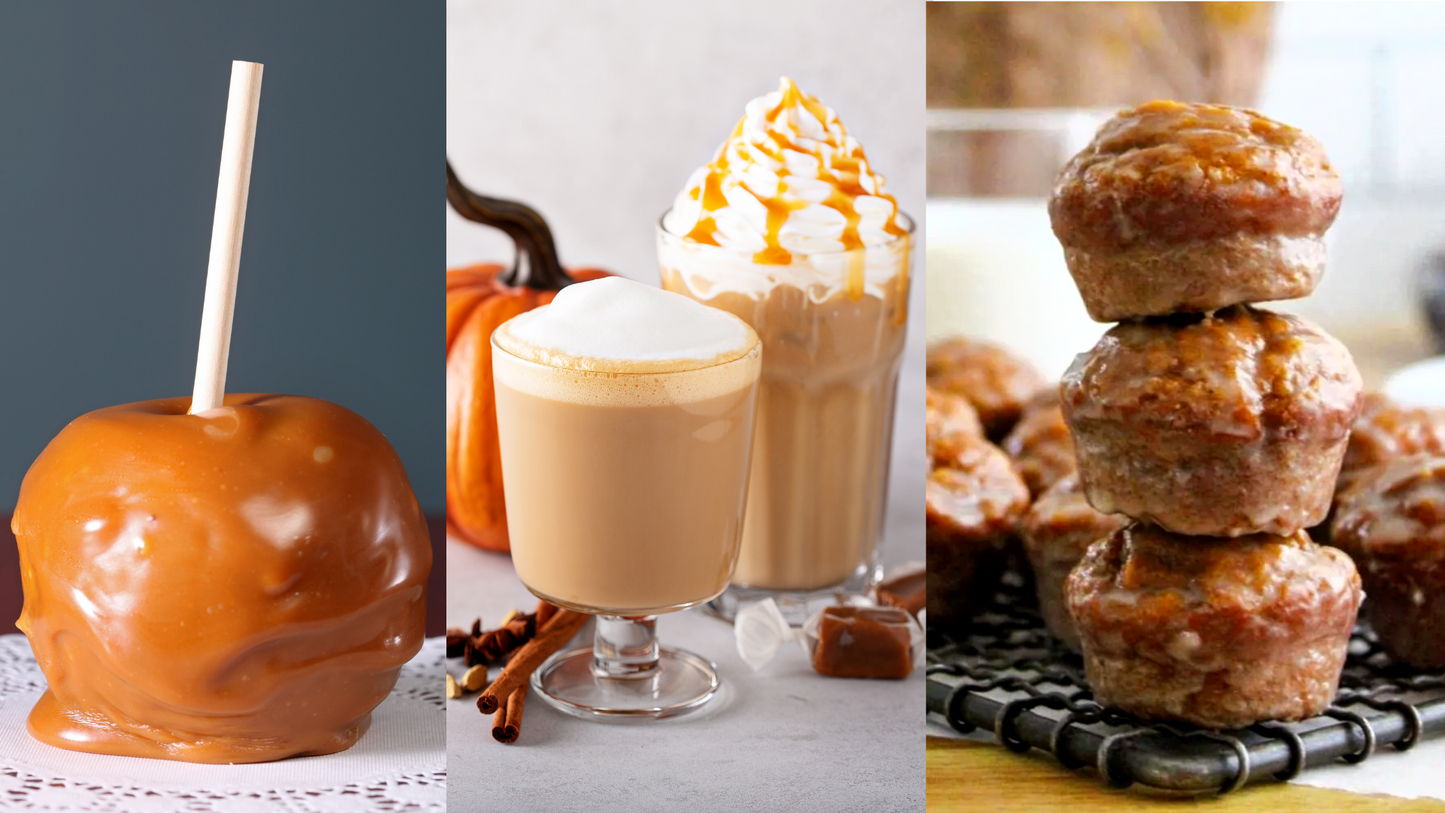 Sweet and Spooky Halloween Treats with Honey
Autumn is my favourite time of year to be in the kitchen whipping up delicious treats. The warm scent of cinnamon, nutmeg, and clove fills the air and the cool weather keeps my kitchen from overheating. Like always, honey is incorporated into most of my sweet dishes, whether I am looking to simply swap out sugar or make honey the star of the show. Check out these three delicious recipes, perfect for Halloween, an impressive dessert, or just a slow rainy Sunday. 
Honey Carmel Apples
Carmel Apples are a Halloween staple. You can find them at the Fall Fair, sold at pumpkin patches or corn mazes, and even in your own kitchen. Skip the overpriced fair prices and make them in your own kitchen with only 3 simple ingredients. This recipe is fairly easy and super fun to do with the kids, just ensure proper adult supervision working with hot caramel. 
Ingredients:
1 cup Heavy Whipping Cream

1 cup Ontario Honey Creations Fall Blossom Honey

6 of your favourite apples

6 wooden popsicle sticks 

(Optional) Sprinkles, chopped peanuts, toffee bits, or mini M&Ms
Instructions:
In a large saucepan, combine whipping cream and honey over medium heat. Bring to a boil. Reduce heat and simmer until thermometer reads 260°F, about 30 minutes. Remove from heat; allow to thicken 5-7 minutes, stirring occasionally.

Insert a wooden popsicle stick into the core of each apple. Dip apples in caramel mixture, rolling to coat evenly. If desired, roll in your chosen topping. Place on waxed paper; refrigerate or store in a cool location until caramel is set, about 30 minutes.
Pumpkin Spiced Honey Latte 
The Pumpkin Spiced Latte is the drink of the season, but why spend over $5 for a drink you can make at home (if you have the equipment)? 
Ingredients:
1 tbs Ontario Honey Creations Pumpkin Spice Creamed Honey 

2 shots of espresso 

½ cup milk or milk alternative 

Pumpkin Spice, sprinkle 
Instructions:
Add Pumpkin Spice Creamed Honey to the bottom of a mug 

Brew 2 shots of espresso and add to mug, stir to mix

Steam milk in a milk frother until hot, pour into mug

Sprinkle with pumpkin spice
Baked Pumpkin Spice Tim Bits 
Donut holes, or Tim Bits as we call them in the Great White North are delicious little balls of sweetness that represent the punched out area of a donut. While most of us stop by our local Timmies to pick up a pack, these little treats are so much fun to make at home. With this recipe, you can skip the large pot of oil for deep frying and stick them right in the oven, saving you calories and a big mess. 
Ingredients:
1 3/4 cups all-purpose flour

2 teaspoons baking powder

1/2 teaspoon salt

1/2 teaspoon cinnamon

1/2 teaspoon nutmeg

1/2 teaspoon allspice

1/8 teaspoon ground cloves

1/3 cup canola oil

1/2 cup brown sugar

1 large egg

1 teaspoon vanilla extract

3/4 cup canned pumpkin puree

1/2 cup milk
Glaze:
Ontario Honey Creations Pumpkin Spice Creamed Honey, 110g

1/4 cup confectioners sugar 

  
Instructions: 
Preheat oven to 350° F. Spray one 24-cup or two 12-cup mini muffin tins with baking spray and set aside.

In a medium bowl, whisk together flour, baking powder, salt, cinnamon, nutmeg, allspice and cloves. In a separate large bowl whisk together oil, brown sugar, egg, vanilla, pumpkin, and milk until smooth. Add dry ingredients to wet ingredients and mix until just combined.

Divide batter evenly among muffin cups. Bake for 10-12 minutes, or until a toothpick comes out clean.

While they bake, mix pumpkin spice creamed honey with confectioners sugar. If the creamed honey is too thick you can warm up for 5-10 seconds in the microwave. 

Dip each Tim Bit in the glaze, then lay on a wired rack to rest. The glaze will remain sticky.
Enjoy!