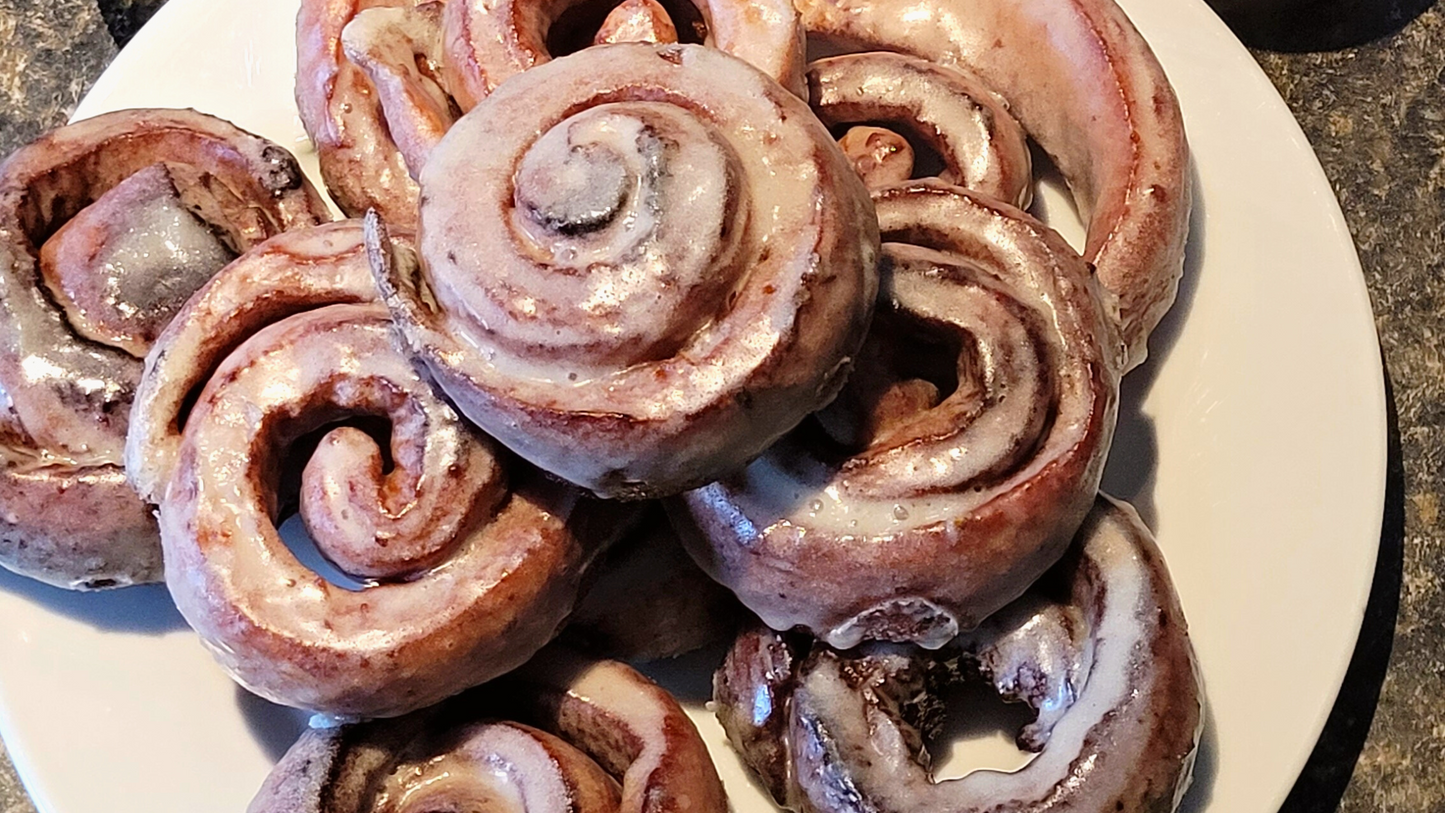 Pumpkin Spiced Honey Buns
 These Pumpkin Spiced Honey Buns are the perfect Autumn treat to make on a cold and rainy day.
A cross between a cinnamon bun and a donut, these treats are filled with our Pumpkin Spice Creamed Honey and dipped in a sweet honey glaze, these buns will have you going back for seconds… and thirds.
In this recipe, the buns are filled with our Pumpkin Spice Creamed Honey, however, they would be just as delicious with our other creamed honey, such as Cocoa, Cinnamon, Lemon, or Plain. 
When I made the recipe, the hardest part was stopping the buns from unraveling in the oil. To help prevent this, wet your fingers and pinch the seal shut. Even if the buns do unravel in the oil, don't worry, they are still delicious!   
This recipe yields 12-14 Honey Buns. 
Honey Buns:
2 ¼ cups all-purpose flour

¼ white sugar

½ tsp salt

⅔ cup of milk

1 packet or 2 ¼ tsp of instant yeast 

⅓ cup of butter, melted

1 egg

2 tsp vanilla extract 

Cooking spray or about 1 tbsp oil for greasing 

2-3 cups vegetable oil, for frying *depending on the size of your pan you may need more or less. You should be able to submerge half the buns in oil.  
Icing:
3 tbsp butter, melted

1 ¼ powdered sugar 

2 tbsp milk

½ tsp vanilla extract 
Directions:
Using a stand mixer with a dough hook attachment, add flour, sugar and salt.

Heat milk in a microwave safe bowl for about 30 seconds until milk is 110°F.

Next, add yeast, melted butter, egg and vanilla to warm milk. Whisk ingredients together until combined.

Pour wet ingredients into a stand mixer with the prepared dry ingredients and knead on medium for 10 minutes. Use a spatula to scrape down the sides to ensure all ingredients are mixed.

Grease a large bowl with oil.

Remove dough and form a ball. Place dough into the prepared bowl and cover with plastic wrap. Let dough rise for about 1½ hours or until it has doubled in size.

Press down the dough, with clean hands, then transfer to a lightly floured surface.

Roll dough out into a rectangle, about 15 inches long and 8 inches wide.

Using a spatula, spread Pumpkin Spiced Creamed Honey over the dough, leaving about ½ inch of space around the border of the dough. 

Start rolling the long side of the dough into a log shape, dip fingers in water and run wet fingers along the edge of the dough, pinching the seam to seal.

Once sealed, use unscented floss or a sharp knife to cut the dough log into 1 inch size buns.

Place buns on a piece of wax paper and spray the top of the honey buns with a non-stick cooking spray and lay a piece of plastic wrap over the top. Let the dough rise for 30 additional minutes leaving a little space between dough slices to allow dough to rise.

In a large pan, heat oil over medium heat.

Once oil is hot, place each bun, a couple at a time, in oil and fry each side until golden brown. You can use an end piece to test the oil to ensure it is ready. 

Remove honey buns from oil and place on a cooling rack to allow excess oil to drip off. It is not recommended to use paper towel as the buns will be sticky. 

While buns are cooling, make the icing.
For The Icing:
In a small bowl, add icing ingredients and mix well until the icing becomes smooth. If you would like a thinner icing, add more milk 1 tsp at a time until you get the consistency you like. 

Take warm buns and dip the tops into the icing, twisting back and forth to get the icing into the crevices of the buns.

Place iced honey buns on wax or parchment paper and allow icing to harden. Enjoy!
Credit to Deliciously Seasoned for the original recipe and inspiration.