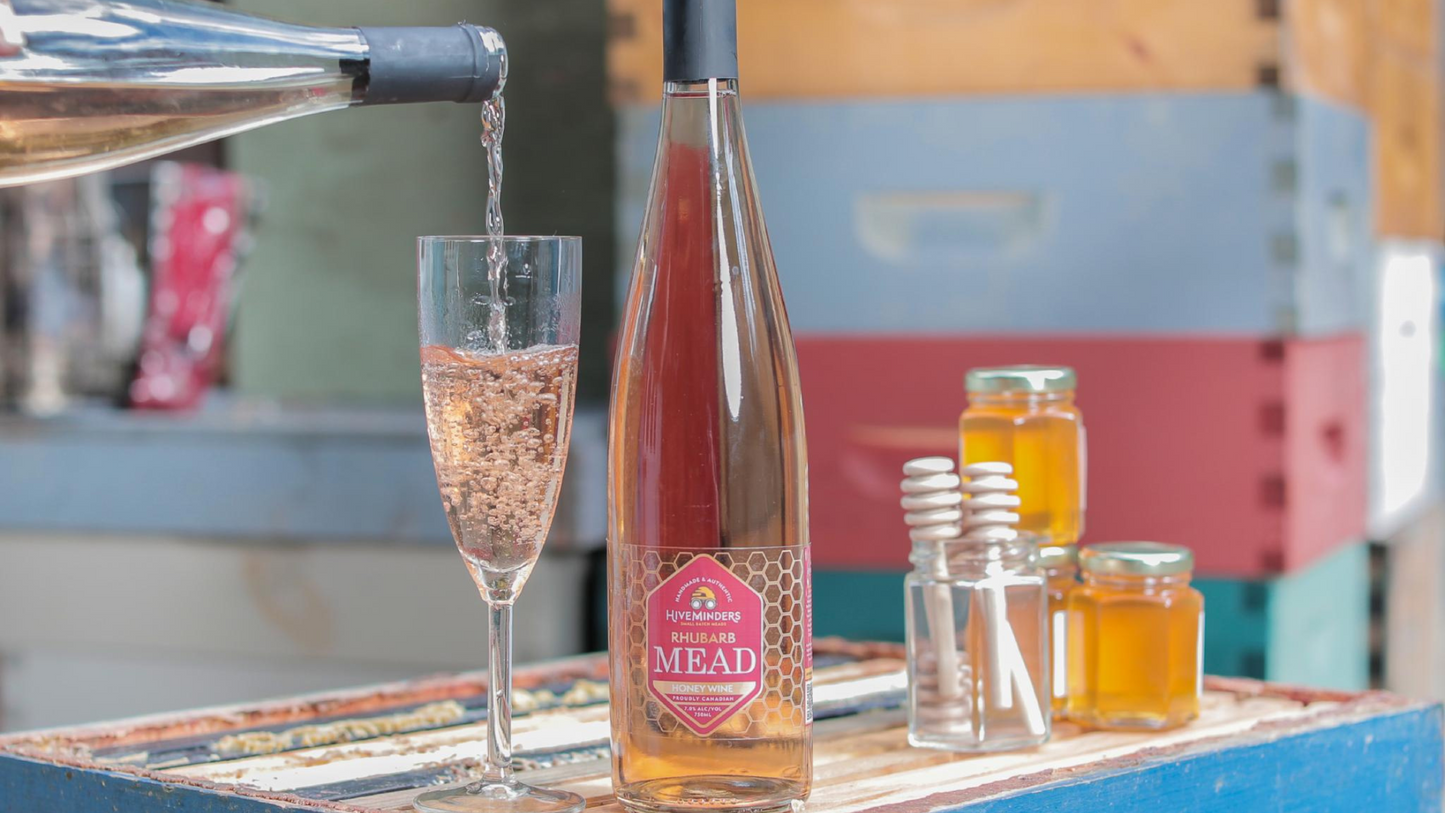 HiveMinders Small Batch Meads
What is Mead?
Mead, also known as Honey Wine, is honey and water fermented with yeast to create an alcoholic beverage. Mead is an ancient drink, often with a medieval reputation thanks to pop culture. However, Mead dates back even farther than that and is often cited as the first alcoholic beverage. Making a comeback in recent years, Mead is often flavoured with a variety of spices, fruits, vegetables, and grains. 
What is Melomel?
All Melomel is a type of Mead, but not all Mead is Melomel. So what is Melomel exactly? Melomel is Mead fermented with fruit. Much like craft beer, there are many specialized variations of Meads:
Melomel: a Mead made with fruit.
Pyment: a Mead made with grapes.
Cyser: a Mead fermented with apple juice instead of water, creating a blend of cider and Mead.
Metheglin: a Mead made with spices and/or herbs. 
Braggot: a Mead made with grains and hops.
What is HiveMinders Small Batch Meads?
HiveMinders is our own brand of Mead here at Ontario Honey Creations, made using our own raw and unpasteurized local honey produced by re-homed honeybees from Toronto Bee Rescue. Proceeds from each sale goes back towards supporting the great work Toronto Bee Rescue does. Our honey is harvested from our hives in the Headwaters, Rouge Valley, and Toronto regions of Ontario. Along with our own local honey, we source our fruits from local farms in the area. We use a traditional Polish recipe passed down from generations to craft deliciously smooth Mead. All of our Mead is crafted in small batches and individually bottled and corked, this ensures that each bottle of Mead we sell is of the highest quality. 
Our Delicious Meads 
We are currently offering three different varieties of our small batch Mead.
Bourbon Barrel Aged Dessert Mead 
This Dessert Mead was made with our pure honey harvested in the Fall of 2018. Its colour is opaque straw, with hints of lively orange. The palate dances off the tongue with sweet honey, cantaloupe, vanilla and sage, with the subtle backend of rich bourbon oak.
Enjoy paired with fruit that has a tart element or dark chocolate for example. Salted nuts also pair well with this Sweet Mead or it can be served neat and chilled as an after dinner drink. 
Alcohol Content: 11.5%
Rhubarb Semi-Sweet Mead
Using honey sourced from our own honeybee hives and locally grown rhubarb, it is naturally fermented to create a light, slightly floral and subtly sweet Mead. Medium acidity with tart, zesty and crisp notes and a subtle aroma of rhubarb. 
Alcohol Content: 7.0%
Cranberry Mead Melomel 
This is a delightfully tart Mead, crafted from a dry melomel. Easy drinking, with smooth notes of honey. Produced with our own honey and local Ontario cranberries. 
Our Cranberry Melomel pairs well with cheeses, rich dark chocolate desserts and strong-flavoured meat dishes, such as grilled meats.  Serve chilled.
Alcohol Content: 8.3%
Looking Forward
Making Mead is a passion for us here at Ontario Honey Creations and we look forward to expanding our HiveMinders Mead offerings this year. In addition to our traditional Mead and Melomel offerings, we will also be expanding into Canned Session Meads. We are excited about what's to come!