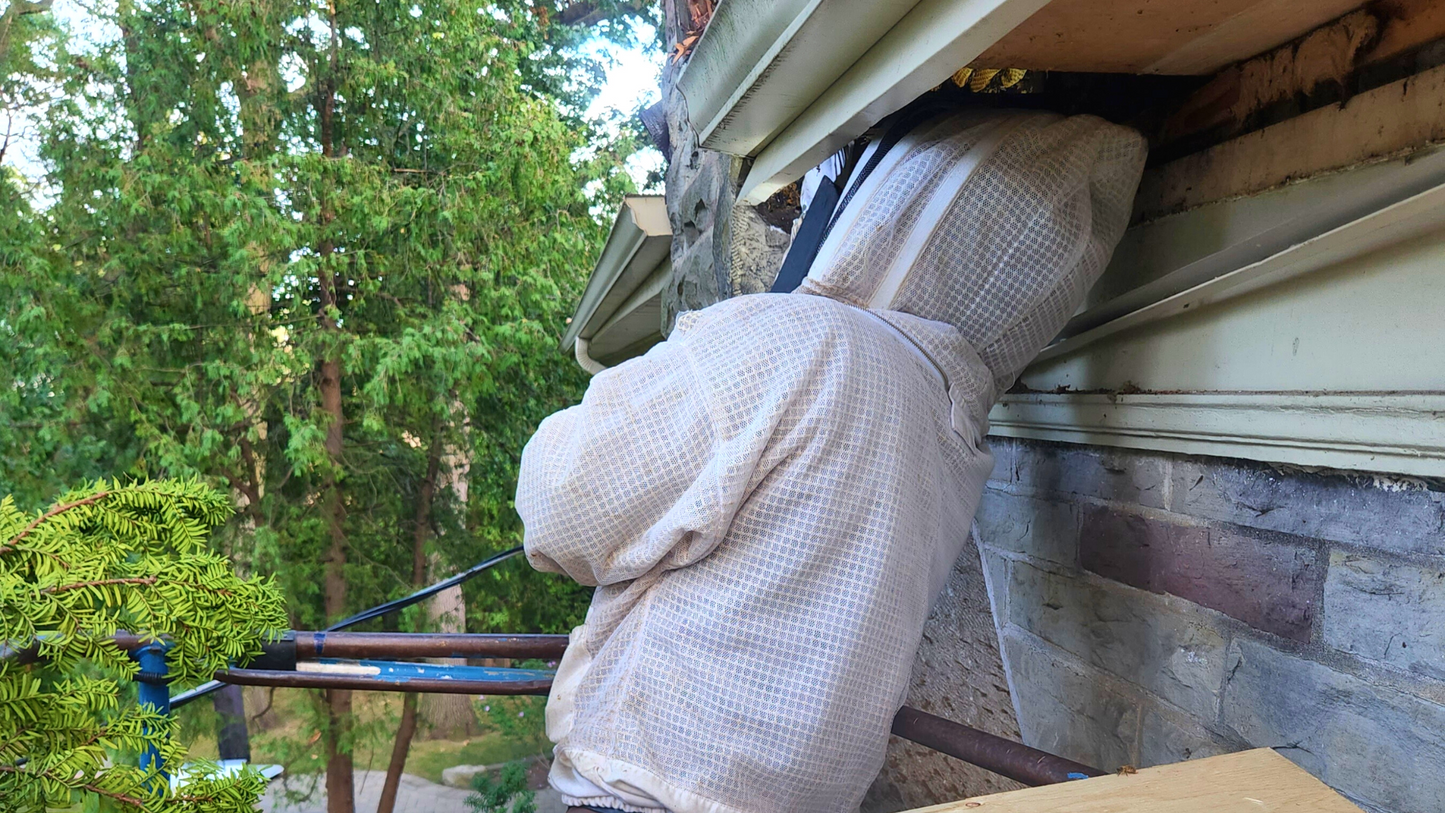 From dream, to Reality: Journey of Toronto Bee Rescue
When kids fly the nest and leave home, we want them to blossom and bloom into a new life, all the while hoping they keep up family traditions. Starting our beekeeping hobby was simply that - finding a way to live a new life together, while connecting to our family roots. Our passion for the bees was there from the start, but we had a lot to learn! 
Peter's family have been hobby beekeepers for three generations, keeping small scale bee farms on their rural property. We decided to take up the torch in 2012 with our own two-hive hobby, although we never could have guessed where we would be over 8 years later… dozens of different bee yard locations spanning the GTA with over 600 hives! Transitioning from the full-time corporate world to full-time beekeepers came with many challenges, but we knew good things don't always come easy.
We worked to overcome obstacles around us, and within ourselves. Peter actually grew up being afraid of bees. While his dad kept several hobby hives, Peter kept a cautious distance (with a deep curiosity) from the bees. I on the other developed an anaphylactic allergy to honeybee venom when we first started our beekeeping business. None the less, we persevered and found solutions.
So, here we are: the culmination of love and hard work. Toronto Bee Rescue is an organization we founded on the basis of respect and responsible treatment of pollinators. TBR specializes in the humane removal and relocation of established honeybee colonies, the collection of swarms, HiveShare Program and honey bee apiary management. 
Too often, rogue colonies are poisoned and killed rather than humanely rehomed. This is particularly the case in urbanized areas across the GTA, where architecture and environment are viewed as incompatible with hive swarms. Toronto Bee Rescue prioritizes the removal and relocation of these colonies. Protecting honey bees grows more important every passing year. 
Giving urban bees the chance at a new life is our true passion project. Thankfully, our passion has turned into a wealth of knowledge and interest for others. Toronto Bee Rescue doesn't just rescue bees - we hive host too! TBR finds interested individual property owners, farmers, and beekeepers to house the removed colonies. This keeps the community network of beekeepers strong and encourages open sourcing knowledge of hobby beekeeping. 
Toronto Bee Rescue is a unique operation that mixes a passion for animals with responsibility and respect. Rehoming bees makes a positive impact on the world around us, for our sake and the natural environment. What if more people took up responsible hobby beekeeping? How would our world look if we produced more of our own foods? Grew bigger gardens? Understood more about the different flowers, herbs, roots and plants in our yards? Imagine...
We dream big here at Toronto Bee Rescue, and we want to inspire others to do the same. Come out and visit our farm in Mulmur, Ontario to hang out with the hives and walk the bee yard. See rescued and rehomed hives in person, hear the stories and, best of all, taste the honey.