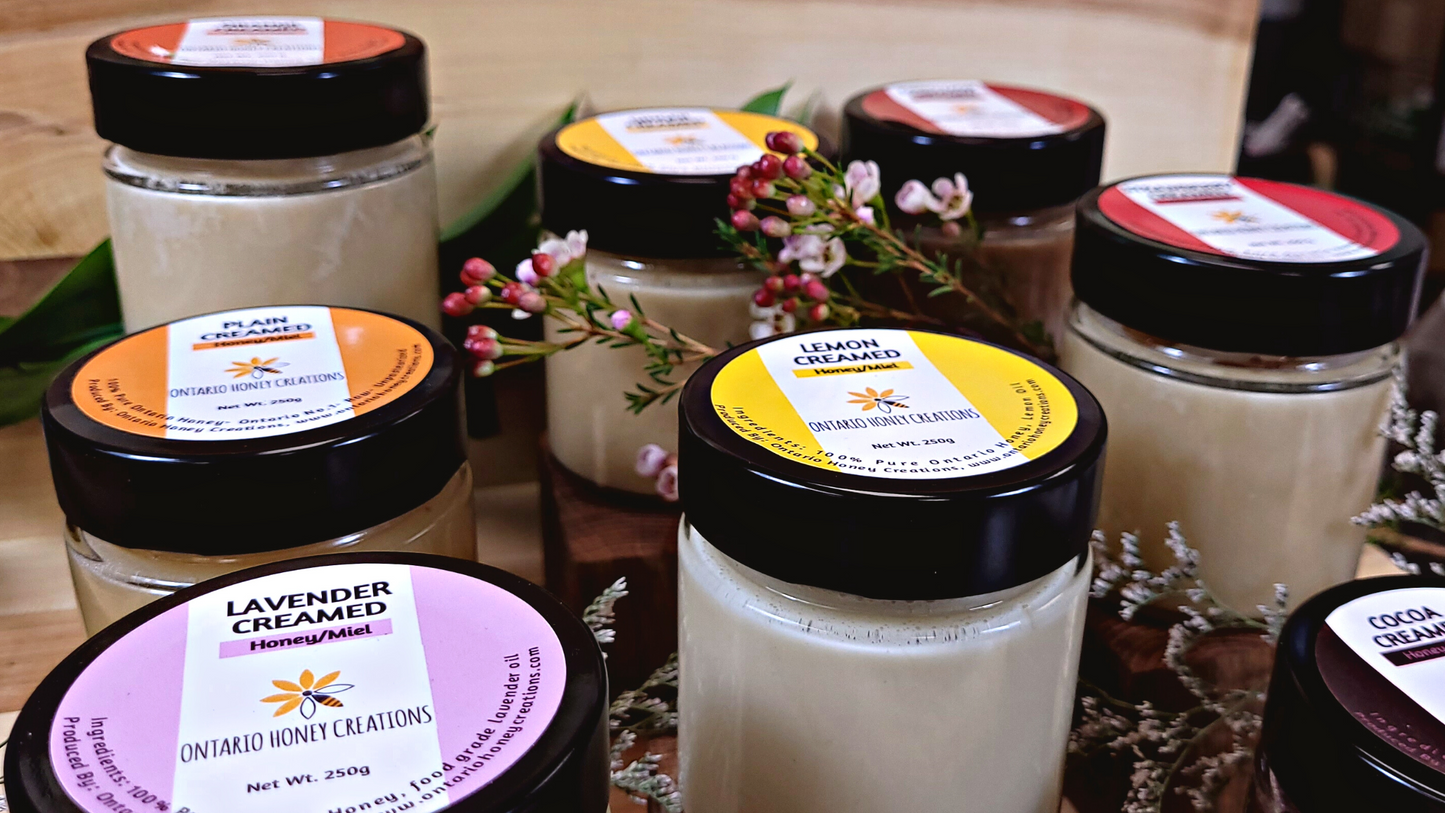 Charcuterie Shake-Up: Spread Love with Creamed Honeys!
Holidays are a time of warmth, generosity and family gatherings… but they can also be a source of stress. From work events, to family dinners, outings with friends, or small get-togethers; deciding what dish to bring can be overwhelming. Thankfully, our Creamed Honey products are here to help! Be a busy bee no longer with this easy addition for your charcuterie selection. 
The typical charcuterie board for every holiday party is packed with delicious kinds of cheeses, various cuts and flavours of meats, along with interesting palette cleansers like olives, cornichons, and dips. Add something new and exciting like OHC's Creamed Honeys to your board that none of your party attendants will expect! Our Lavender Creamed Honey is aromatic and light, pairing perfectly for in-between bites of spiced meats or heavy cheeses. 
Do you like your board sweet, or spicy? Ontario Honey Creations' Creamed Honeys offer both! Try out our smooth Cocoa honey spread for something different at dessert, or stir it into a hot drink for a bold chocolate-y finish. If spice is more your style, our Cinnammon and Ginger Creamed Honeys will add a kick to any dish! These honeys finish beautifully alongside a kielbasa with a light cheese, delivering a buzzing ovation. 
Fruits may be one of the more understated palette cleansers of the charcuterie selection. Ontario Honey Creations' Lemon Creamed Honey is a light and tangy spread that works well with many dense crackers, particularly whole wheat. Its sweet and supple citrus flavours make a great addition with most meats and cheeses. Feeling warm and cozy? Try some stirred into your tea - it's sweetly splendid! 
Don't be afraid to get creative with your charcuterie this year with the help of Ontario Honey Creations! Ranging in seven different flavours, our Creamed Honeys are the perfect addition for any snack board this holiday season. From citrus, to savoury, to sweet, and herbal - Ontario Honey Creations' Creamed Honeys are versatile and a definite crowd-pleaser.