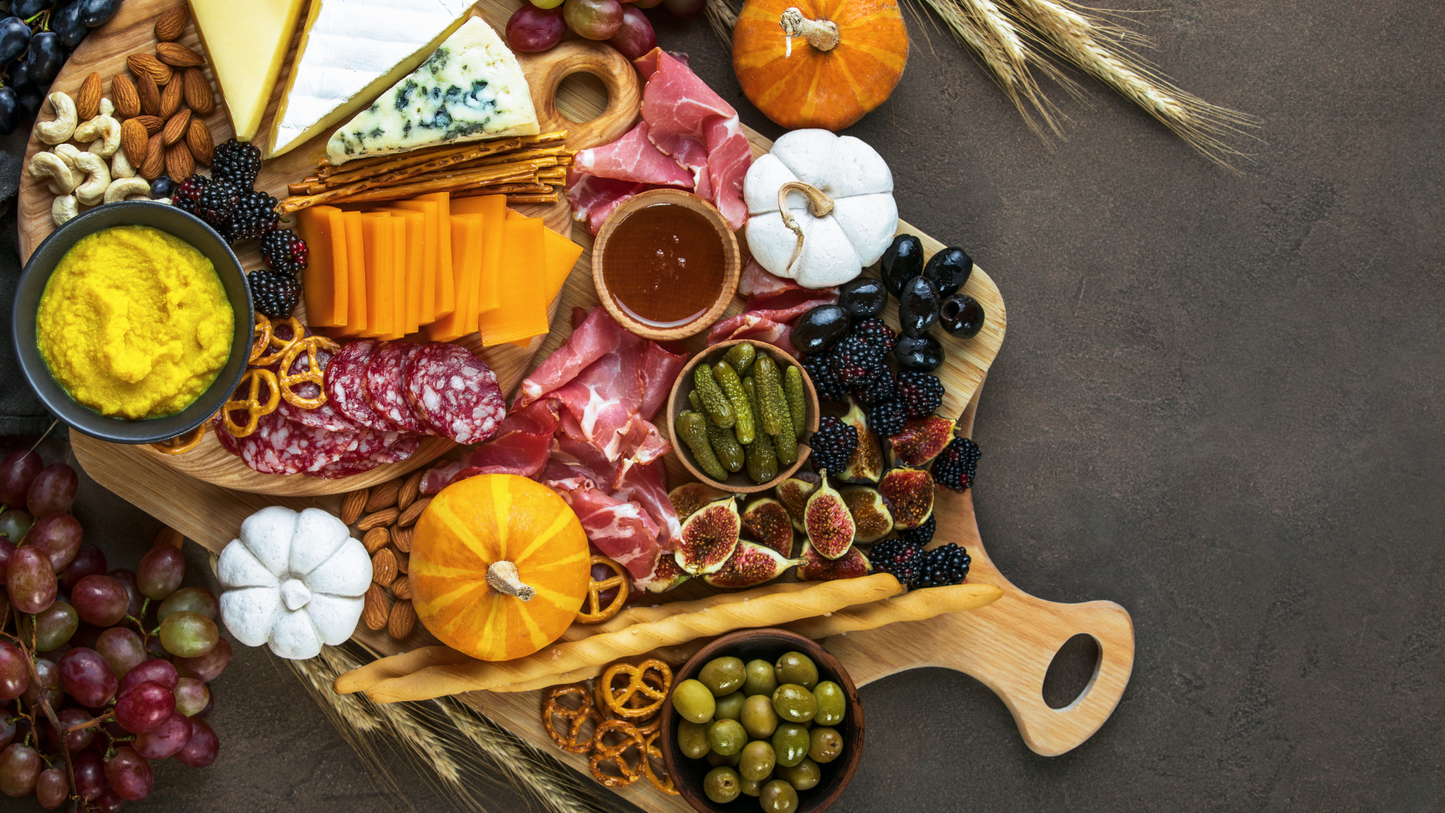 Charcuterie Board 101: Impress Your Guests
Whether you're planning a night in for two or looking to entertain your friends and family, you can't go wrong with a charcuterie board. A charcuterie board, pronounced shahr-koo-tuh–ree, is an appetizer that usually consists of a variety of cured meats, cheeses, crackers, nuts, fruits, and a variety of spreads and dips, but the real appeal comes from the aesthetic of bright seasonal colours laid across a wooden slab. 
If you're an experienced host or looking to entertain for the first time, I'm sure you'll find inspiration here on how to make a beautiful charcuterie board, with a focus on local ingredients. 
Wooden Board:
The first thing to consider is how many people you're looking to serve, as this will determine how big of a board you need. Handmade boards can commonly be found at local farmers markets and artist/crafters markets. When you shop locally, you get the opportunity to meet the maker and learn about the product you are purchasing. Ontario Honey Creations offers reclaimed ash charcuterie boards handmade by Enzo, a local woodworker who hosts some of our hives on their property. 
Cheeses:
It's best to offer a combination of hard and soft cheeses for your guests to choose from, and while charcuterie boards are the perfect chance to experiment with new and fun cheeses, it's recommended to have some options that your guests will be familiar with. 
Hard Cheeses: Aged Cheddar, Swiss, Gouda, Parmesan, Gruyère, Asiago, Pecorino Romano, etc. 
Soft Cheeses: Feta, Brie, Goat Cheese, Ricotta, Cream Cheese, Blue Cheese, Gorgonzola, Mozzarella, etc. 
When sourcing cheese for your charcuterie board, consider skipping the grocery store and check out local dairy farmers in your area or visit your local farmers market. 
Meats: 
Cured meats are a staple in charcuterie boards, however if you're vegetarian or entertaining vegetarians, you can use meat substitutes or skip this all together and still make a tasty board! 
Meats: Salami, Prosciutto, Mortadella, Ham, Cured Chorizo, Sausage, etc 
Check out your local butcher shops for a wide selection of high quality meats. 
Savory Elements:
Adding a mix of savory elements to your board offers your guests more variety to choose from. 
Nuts: Almonds, Cashews, Walnuts, Pecans, Pistachios, etc
Briny & Pickled: Olives, Pickles, Pickled Green Beans, etc
Veggies: Carrots, Peppers, Cucumber, Celery, Beets, etc
Sweet Elements:
Balance out your board with some sweetness!
Honey: Raw Local Honey, Honey Comb, Creamed Honey 
Fresh Fruit: Apples Slices, Raspberries, Strawberries, Blueberries, Grapes, whatever is in season
Chocolate: Pieces of Dark Chocolate, Chocolate Covered Almonds, Chocolate Covered Strawberries
Crackers & Breads:
The backbone of any good charcuterie board is a variety of crackers and breads. Seedy, multigrain crackers add great flavour as base to build off. Fresh baguette and mini toast are also great choices to add.
Dips & Spreads:
Jams & Jellies: Strawberry Jam, Orange Marmalade, Grape Jelly, ect
Savory Dips & Spreads: Hummus, Garlic & Herb Butter, Spicy Mustard, Ranch, Hot Honey, ect
How to Design Your Board:
After eating, this is my favourite part of charcuterie boards! 
I like to start by putting my dips and spreads in small serving dishes and place those around the board. Then I cut and fold the meat and arrange those across the board, separating the different meats. Hard cheese should be cut down to bite sized pieces and each soft cheese should have its own serving utensil. After the dips, meats, and cheese are on the board, fill in the remaining space with crackers, and your choice sweet & savory elements. When designing charcuterie boards, especially for the first time, it can be helpful to look up reference images online to get inspiration. But remember, have fun and be creative, there is no one way to make a charcuterie board!