This store requires javascript to be enabled for some features to work correctly.
Gift boxes that are perfect for smaller, more intimate events including Weddings, Baby Showers, Birthdays, Anniversaries, and more. 
Each box comes with a jar of our pure raw honey, harvested from our hives in the GTA. Size options available include: 
Small: 

130g seasonal honey, wooden dipper and a beeswax candle

Medium: 130g 

seasonal honey, wooden dipper, mini hexagon honey soap and a beeswax candle

Large: 250g 

seasonal honey, wooden dipper, mini hexagon honey soap and a beeswax candle
Our candles are made from 100% pure beeswax and have a naturally sweet and mild scent of warm honey - no artificial fragrances added.

The soaps are handmade, made in collaboration with local small business Sage & Thistle Handmade Goods. Each soap is thoughtfully crafted with natural ingredients like organic plant butters, pure essential oils, and natural clays. 
Customize your favours with a unique label on the top of every box.
Current Honey Favour label templates include:
Weddings

Baby Showers

Birthdays

Anniversaries 

Rosh Hashanah

Winter Holidays/Christmas

Easter

Ramadan 
Ordering Custom Labels:

To make the ordering process as seamless as possible, please be sure to include all information needed for us to design your labels. 

We will follow the template of the label you choose, and use the information you provide to customize it within the given space. 

Names: What name(s) you would like to have on the label 

Message: If you would like to change the message on the labels, please keep close to the same length on the template

Date: The date you would like to have on the label

Other Notes: This field will not appear on the label, but can be used to clarify your customizations and/or change the colour
Can I design my own label?

If you do not want to use one of our templates, you are welcome to design your own label and we can print and attach your label design to the favours. The $0.35/label still applies.

Circle Labels: 1.2"

Rectangle Labels for 90g, 130g and 250g jars: 3.75" x 1.4375" 

Rectangle Labels for 50g jars: 3.5" x 0.75"
Shipping:

We offer local porch delivery in the GTA for $12 per order. Please check our shipping policy to see if you live within our service area. We offer courier delivery for the rest of Ontario and Canada.
Sizes:

We offer our Honey Favours in 4 sizes:

Glass Hexagonal 50g jars (5cm x 5cm)
Glass Cylinder 90g jars (5cm x 7cm)
Glass Hexagonal 130g jars (6cm x 7.5cm)
Glass Hexagonal 250g jars (7cm x 8.5cm)
When will my order be delivered?

If you do not include a delivery date in the notes of your order, we will reach out to you to schedule delivery. Delivery is suggested 2-3 weeks prior to the event date so that we can guarantee our honey will remain in its liquid form for the event.
Will I get to see my label before printing?

A label proof will be emailed prior to delivery. At this point, you will be able to approve the design or request any changes. Once you confirm the design, we are not responsible for any mistakes missed during the proof process.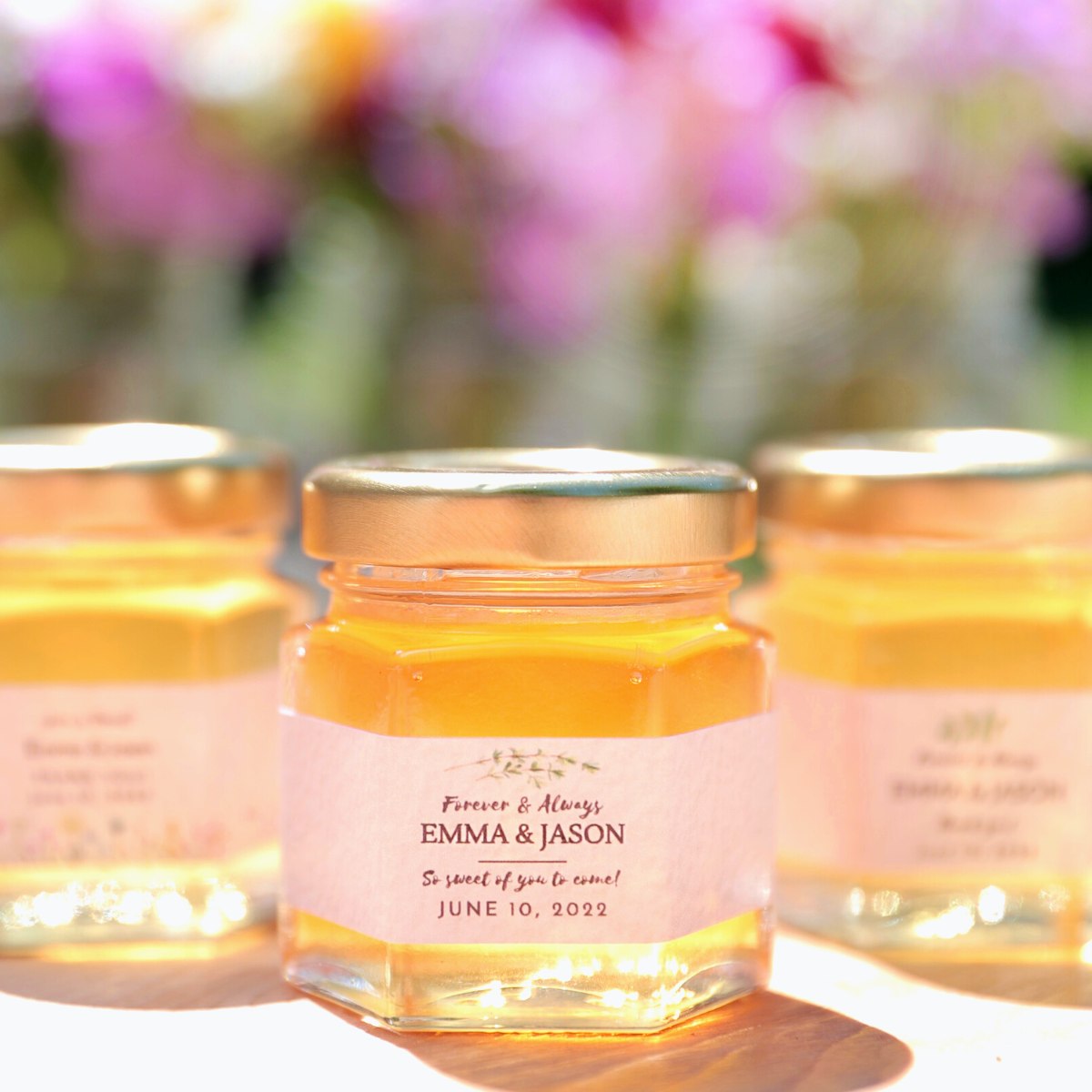 Never Forget Your Special Day
Did you know that honey never expires? Start a new tradition by setting aside a few favours and enjoy them on your 1, 5, 10, & 20 year anniversary.
Store your unopened honey favours in a cool place away from direct sunlight. If your honey crystallizes, place the jar in a warm water bath to return to liquid.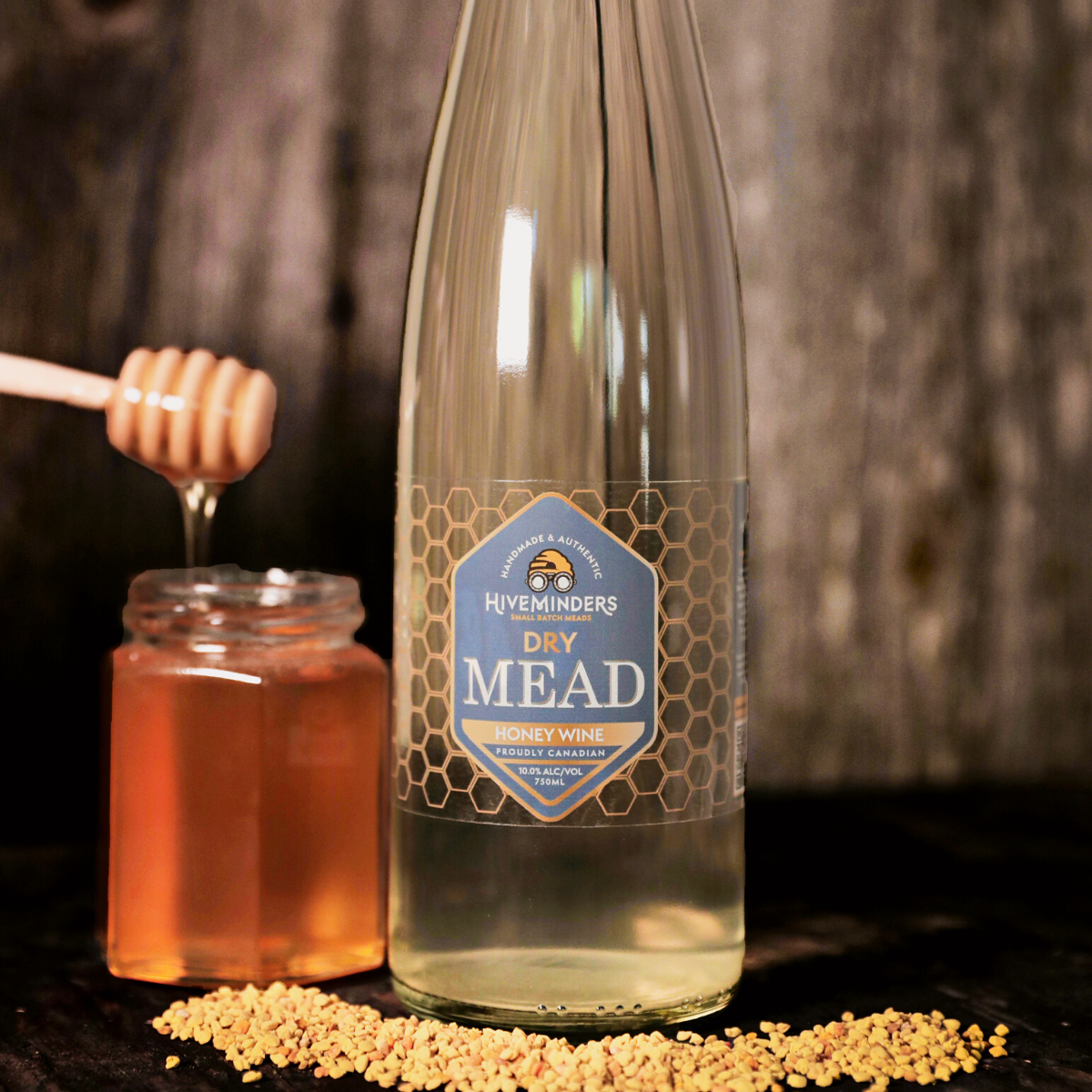 For The Honeymoon
Have you ever thought about the history of honeymoons? This post-wedding getaway stems from a European tradition where the newlyweds were given enough Mead to last a month - or a full lunar cycle.
Pay homage to this old tradition by enjoying a bottle of Mead after your wedding or serve with dinner during the reception.
Shop Mead
What Others are Saying
"I purchased 22 honey favours from here for my wedding favours station and they were a huge hit! It was the first item to run out!! I can't rave about this store enough, the quality of honey is amazing, the customer service top tier, and the turn around times were extremely quick! If you're looking to do honey favours 10/10 would recommend as they have the best quality and pricing!"

Siobhan Lau

"My experience with Ontario Honey Creations was truly exceptional! I needed favours for an upcoming baby shower and Sarah was SO amazing and easy to work with. From label design to product quality (and taste!!!), I couldn't have asked for a better company to go with!! Thank you SO much to Sarah and the Ontario Honey Creations team for making my baby shower favours perfect!!!"

Christina Menchella

"I purchased beautiful honey favours for my son's baptism. Very accommodating with changes to my growing guestlist and also delivery straight to the front door! Not to mention the honey tastes amazing! I will be ordering from this company in the future and I advise anyone looking for honey or honey favours to order from this great local company."

Liliana Caruso